Published: Saturday 13 April 2013
The angry white guys who dominate the Republican Party in Congress represent all the angry white men in America who cannot accept what they've lost forever—namely the exclusive right to take all the best jobs, run everything, make all the decisions and, oh yes, keep everybody who doesn't look, act and talk the way they do out of the good old boys club.
Angry White Guys: The Roots of Reactionary America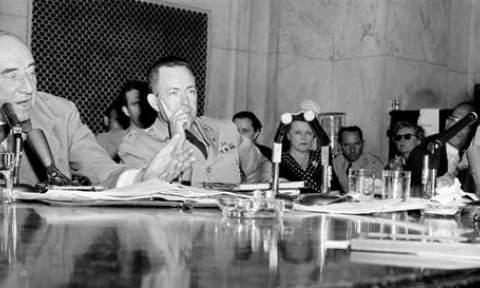 "Fifty years after the atom bomb, Hiroshima and Nagasaki are gleaming, thriving metropolises. After 50 years of failed government promises in Detroit, the money has dried up, welfare has run out and the city is headed for fire sale. With cities and states across the USA not far behind and teetering on the brink of bankruptcy, Detroit is no longer just a punch line. It is a warning of the future to come for millions of Americans."

‒ Charles Hurt
This is a story about the politics of anger. The quote above forms the last paragraph of a review of Charlie LeDuff's gut-wrenching book, Detroit, An American Autopsy.  It's a powerful book that speaks volumes not only about Detroit but also about most big cities in America today – cities where petty crime, gang violence, drug addiction, prostitution, poverty, vandalism, vagrancy, filth, abandoned buildings, arson, and despair have been on the rise for decades.  Remarkably, LeDuff's chronicle of Detroit's descent avoids partisan rancor.  His is a story of a city suffering from a chronic condition that has taken an ugly turn and become terminal.  And, yes, he's angry; very angry. 
There's a lot of anger in America, Europe and the Middle East and, come to think of it, everywhere.  Anger like everything else has gone global.  We recognize it when we see it – in others, that is – but it's here, too, it's on the rise, and it explains as least as much about politics in contemporary America as such other deadly sins as greed and power lust.  In fact, it's probably more central as a motivating force behind our dysfunctional politics than either.    
Take Charlie LeDuff, for example.  LeDuff's anger is visceral.  He makes no attempt to hide it – and no apologies.  He's angry with leaders who don't lead and politicians who make promises they don't even try to keep.  He spares no one and directs his anger at both of our major political parties.  And, of course, he's right to do so.
But unlike LeDuff, our politicians and partisan voters are angry.  That's especially true of the new breed of Republicans in Congress.  Republicans have always been partisan, but then so have Democrats.  It's only natural.  But something has changed.  Partisanship is now a synonym for paralysis in Washington.
Why?  Is the Tea Party the cause?  Merely a symptom?  Or is it something else altogether?  Here's Harvard's Theda Skocpol, the eminent political sociologist, talking about what makes the Tea Party rank-and-file tick:  "At the popular level, where there are genuine activists who have really gone out there and protested and organized into hundreds of groups...they've played a huge role in shaping the presidential debates and the presidential agenda."
Skocpol, who's written a book, Obama And America's Political Future, that delves deeply into the nature and origins of the Tea Party, as well as analyzing Obama's disappointing performance thus far, is both sympathetic and objective in her criticisms of both.  In her public talks about the Tea Party she goes out of her way to express admiration for the accomplishments of people at the local level who are plainspoken, deeply committed, sincere, and unstinting in their efforts to move society in the direction they desire.  She is also careful to qualify her criticism of President Obama:  "…a lot of the criticism of him," she contends, "is unrealistic."
If so, the main reason it's unrealistic is that Obama has, quite simply, run into a brick wall erected by rightwing Republicans in the U.S. Congress.  These Republicans – including the Tea Party Caucus – are nothing like traditional Republicans.  They're also not in lockstep with the Tea Party itself.  Skocpol: "In Tea Party eyes there clearly are important things the federal government does—including care for veterans along with the dispensation of Medicare and Social Security. Many are ready to support taxation for such worthwhile programs."
Not exactly what we've come to expect from the likes of Paul Ryan and company, including Eric Canter, Rand Paul, Tom Coburn, Jim DeMint, Steve King, Jerry Moran, and the entire cast of manic anti-government ideologues in Congress.*
Hypothesis:  extreme right-wing Republicans in Congress are not taking their cues from the grass-roots Tea Party rank-and-file but are in fact cynically using them, manipulating symbols and issues that move this mass of disenchanted gray hairs, embattled blue-collar workers, anxious job-seekers, financially stressed homeowners, and beleaguered taxpayers to accomplish other aims altogether.  If they are not simply reflecting and regurgitating views held by conservative constituents, what IS behind the recalcitrance and rage of the avatars in Congress who pose as representatives of the Tea Party?
The question is not how can they believe the nonsense they spout.  The question is, why are they so damn mad?   What is the source of this seemingly inexhaustible wellspring of anger?
It's a serious question deserving of a serious answer.  A definitive answer awaits the work of investigative journalists like Charlie LeDuff and methodical scholars like Theda Skocpol, of course.  But I have a theory.               
The theory would be invalid if Republicans in Congress today were essentially like Republicans in, say, the 1950s when most everybody (even dyed-in-the-wool Democrats) liked Ike, politics stopped at the water's edge, and the TV series "Father Knows Best" exemplified the white, middle-class American dream. It would lose its luster if rank-and-file Republicans actually share the opinions and values of Republicans in the US House and Senate.   But that's not the case. 
Why then are Wingnut Republicans so angry?  Who or what provoked them?  Was it Al Gore, the global warming crusader? Was it President Obama, the Wannabe Marxist Dictator who thinks everybody has a right to health insurance?  Or did it start with Bill Clinton who balanced the budget and kept us out of war, thus making George W. Bush look bad for spectacularly failing to do either?  Can raging hatred for the soft-spoken, conciliatory guy in the White House possibly explain the depth and breadth of the anger Congressional Republicans defiantly display despite the electoral trouncing they received last November?
I don't think so.
The explanation has to be bigger than Obama, the debt ceiling, gay marriage, or abortion – much bigger.  It's not one liberal or one issue that incenses Republicans, but rather the sea change in American society that occurred in the 1960s, continued into the 1970s, and that had too much momentum to be derailed even by the so-called Reagan Revolution of the 1980s.  Think about it: the civil rights movement, the Voting Rights Act, Vietnam and the anti-war movement, pot smoking hippies, affirmative action, "women's lib", the environmental movement (the Clean Air Act, Clean Water Act, EPA) – all happened in a 20-year time span bracketed by the defeat of one Republican presidential candidate – Richard Nixon – in 1960 and the victory of another – Ronald Reagan – in 1980.
In the space of two decades, U.S. society underwent a remarkable historic transformation from a society where the principle of equality was given more lip service than legal protection to one where the federal government was making a serious attempt to remedy or at least ameliorate the worst social injustices of the past.   Ask yourself who stood to gain the most?  Answer: the very people who in the past had always been the losers.  And who stood to lose the most?
The obvious answer is not the best one.  The tectonic shift in American society in the 1960s and 70s was not simply about rich versus poor.  It was not about "class warfare," and it still isn't.
Ironically, the reason we tend to think in these terms is because that's how the Reagan Republic neo-cons who have defined the political mindscape since the 1980s have conditioned us to think.  But it's a red herring.  Indeed, the rich get richer every year, as income inequality and concentration of wealth has risen to unprecedented levels in this country since the 1980s. 
No, the biggest losers in that social revolution weren't just super rich folks, but white males who dominated the home, professions, business, banking, unions, politics, sports, entertainment, higher education, radio and television – well, just about everything worth dominating.   Of course, women in World War II had played a major role in the workforce demonstrating skills and abilities in occupations previously reserved for men.  But after the war, when the men returned from war most women returned to the home and "domestic" work.
The Big Change, to repeat, began in the 1960s, accelerated in the 70s, and the rest, as they say, is history.
No one familiar with life in America today can honestly claim that this society is fair or equal or just, but it is much different from the society of the 1950s.  The angry white guys who dominate the Republican Party in Congress represent all the angry white men in America who cannot accept what they've lost forever – namely the exclusive right to take all the best jobs, run everything, make all the decisions, and, oh yes, keep everybody who doesn't look, act, and talk the way they do out of the good old boys club.  Even Augusta National and the Masters have finally bowed to the inevitable.
Like it or not, boys, you can say goodbye to all that and good riddance.
*This is obviously a partial list.  Michelle Bachmann is one conspicuous omission.  The full list runs to over 100.  It includes but a few women (less than 10 percent of the total).  Bachmann is the most recognizable name.  Others include Sandy Adams, Vicky Hartzler, Virginia Fox, Sue Myrick, Kristi Noem, Diane Black, Debra Medina, and Cynthia Lummis. Note, too, that the ruthless budget cutters are also the very same fear mongers who can't throw enough money at the Pentagon but want to slash federal funding for old-age pensions, health, and education while taking no steps to cut their own salaries, benefits, staffs, travel allowances, not to mention a panoply of other perquisites and privileges they conveniently hide from the voting public. To call these feeders at the public trough hypocrites would be an insult to Porky Pig.