Climate Talk Results: People Ready for Climate Action, World Leaders are Not
Published: Monday 10 December 2012
A broad spectrum of civil society organizations have vowed to continue the fight for a global climate agreement in 2015, starting with negotiations next year in Poland.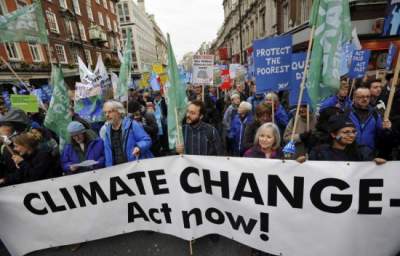 The United Nations climate talks in Doha, Qatar ended Saturday with key countries agreeing to guidelines on how to track progress toward meeting their commitments and set a path toward a stronger legal agreement in 2015, according to the Natural Resources Defense Council (NRDC).
"This year has been filled with devastating wake-up calls that global warming is already impacting us. Failure to act will hurt people and communities in the United States and around the world," said Jake Schmidt, international climate policy director at NRDC.
"With the agreement in Doha, countries can now focus on following through on the commitments they made to reduce emissions at home, build stronger efforts to support action by developing countries and improve the transparency of their actions. Countries have begun rolling up their sleeves to enact new standards and policies that will lay the foundation for even greater carbon pollution reductions. These efforts will be supported by the progress made at the climate negotiations, but real progress will only occur if we win the fights in the capitals, boardrooms and courtrooms of the key countries," continued Schmidt.
The agreements in Doha, include:
Outlining the clear path to negotiating even stronger action in 2015 that will include actions by all key countries.
Finalizing key guidelines on how developed and developing countries will monitor and report their emissions and track progress towards their emissions reduction commitments.
Reaffirming the need to continue investing in efforts to support developing countries in deploying clean energy, reducing deforestation emissions and supporting the most vulnerable countries in strengthening their resilience to climate change countries.
Finalizing the second round of targets for a number of developed countries under the Kyoto Protocol.
People are Ready for Action on Climate—"World Leaders" are Not
In a year in which the impacts of climate change pounded people in rich and poor countries alike, negotiators in Doha have failed to deliver even the minimum expectations for the U.N. climate negotiations, according to the World Wildlife Fund (WWF).
But a broad spectrum of civil society organizations have vowed to continue the fight for a global climate agreement in 2015, starting with negotiations next year in Poland.
"Some developed countries have made a mockery of the negotiations by backing away from their past commitments and refusing to take on new ones. And to make matters worse, it was only a handful of countries—such as Poland, Russia, Canada, U.S. and Japan—who held the negotiations to ransom," says Samantha Smith, leader of WWF's Global Climate and Energy Initiative.
"What science tells us and what millions of people experienced this year is that fighting climate change is now extremely urgent. Every year counts, and every year governments do not act increases the risk to us all.
"The acid test for these negotiations was real emissions cuts; real and concrete financial commitments for climate change; and the basis for a new global deal by 2015 that is both ambitious and equitable. But instead we got a shamefully weak deal, one that is so far away from the science that it should raise ethical issues for those responsible."
"But hope is far from gone. The movement gets stronger and more passionate everyday. Communities and people are standing up for clean energy, confronting dirty projects all over the world, such as coal, and demanding that changes be made. Here in Doha, for the first time in history, people marched to demand real leadership to tackle climate change," says Tasneem Essop, head of the WWF delegation to COP 18.
"The most significant development in Doha was what happened outside the plenary rooms," says Essop. "Social movements and civil society joined hands to take a stand against the lack of ambition and urgency in the climate negotiations. We will continue to work to ensure that governments are going to meet the 2015 deadline for a fair, ambitious and binding agreement."