Published: Friday 12 April 2013
As disturbing as it is, accepting failure as a movement truly means condemning millions of people to death and hundreds of thousands of species to extinction.
Colleges Pledge Divestment From Fossil-Fuel Stocks in a Movement to Solve the Climate Crisis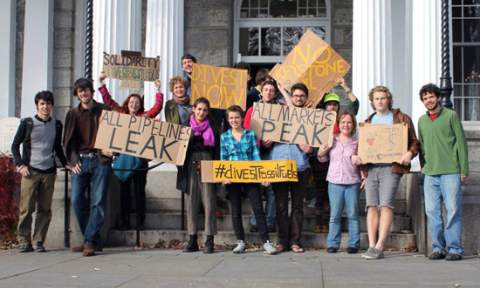 Nationwide college divestment from fossil-fuel stocks has been one of the primary darlings of the liberal environmentalist movement since Bill McKibben, arguably the most influential contemporary environmentalist, published his famous article, "Global Warming's Terrifying New Math", in Rolling Stone. My campus is one of over three hundred with grassroots organizations promoting divestment, many receiving some form of training or support from 350.org, the organization McKibben co-founded.
Several colleges have already pledged to divest from the 200 fossil fuel companies identified by 350.org as holding the vast majority of underground hydrocarbon reserves. The movement has received national press coverage and has drawn endorsements from Green Party leaders and vigorous condemnation from conservative commentators-both of which have encouraged those of us involved. Anyone paying attention to the growing ecological crisis has been lamenting the lack of an organized resistance movement for years. Finally, it seems, we've found a movement ready to confront the problem head-on. This is more like it.
But is it?
As inspiring as their efforts are, 350.org's strategy cannot, as the front page of their website promises, build "a global movement to solve the climate crisis." Although the organization's sporadic use of nonviolent civil disobedience is an outlier among the timid American professional environmentalist movement, the practice of this so-called grassroots movement looks a lot like business as usual. Despite the rhetoric, liberal environmentalists rarely approach the combativeness of Dr. Martin Luther King Junior, who was understanding and patient enough to give the "arc of the moral universe", or the existing power structure time to bend towards justice.
The planet, or at least my generation and much of the rest of life on Earth, don't have that luxury. Global temperatures will rise at least 3 degrees in the next 30 years alone. As positive feedback loops like the melting of glaciers, permafrost, artic sea ice, ocean acidification, and drought take effect and worsen, our ability to stabilize the climate will be drastically reduced. People, overwhelmingly people of color, women, the poor, and children, are already dying as a result of climate change caused primarily by the developed world's use of fossil fuels. As species loss, deforestation, and extreme weather incidents increase, the casualties will exponentially increase.
As disturbing as it is, accepting failure as a movement truly means condemning millions of people to death and hundreds of thousands of species to extinction. Given that sobering reality, we desperately need to rethink our strategy not in terms of what is politically feasible or economically sound but what our ecosystems can endure. We have long been warned that we cannot place the health of the economy above the health of the planet. The gap between what the science demands and what the global power structure can allow reveals that the stakes have been raised such that we may have to choose which we let die.