Death Toll at 28 in Tragic Connecticut School Shooting
Published: Saturday 15 December 2012
While an ongoing investigation continues, Americans come together to try and fathom the cataclysm.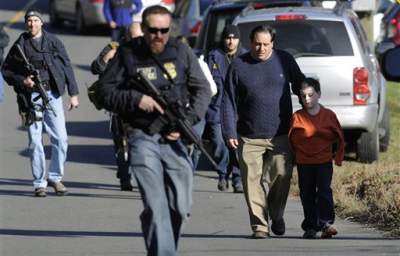 UPDATE: Dec., 15 at 2 p.m.
At a press conference earlier today, Dr. Wayne Carver, chief medical examiner, revealed that each of the victims were shot several times enduring "devestating wounds." Autopsies were completed on the 20 slained children and it was determined that all were between the age of six and seven. He went on to say that "post-mortems" will be completed on the six deceased adults by the end of the day. It was also determined that the deadly weapon the gunman, Adam Lanza, 20, used was a rifle. 
An autopsy will soon be coducted on Lanza, who is said to have committed suicide with one of the handguns he carried, as well as Lanz'a mother, Nancy, who was found dead in the family's home in Newtown on Friday.
Carver went on to say that there were four doctors, 10 technicians and a college student, who was on her first day of the job, that all worked together throughout Friday night to perform the autopsies. He performed seven autopsies himself and said that of those victims, each suffered anywhere from three to 11 bullet wounds, some at point-blank range. 
"This is a very devastating set of injuries," Carner said. "I have been at this for a third of a century and my sensibility may not be the average man's, but this is probably the worst I've seen."
Photographs of the victims' faces were taken and then showed to their families because it tends to be a bit more merciful to deal with Carver said. While all the names of the deceased were handed to the media, Lt. Paul Vance pleaded, at a press conference earlier this morning, that reporters respect the families' privacy as they get through this "difficult and trying time."
Also during the morning press conference, Vance said that investigators produced good evidence that they will be able to use to help answer the ongoing question as to why this happened.
He also answered the question that was lingering in my people's minds: how did the gunman get into the school in the first place? Sandy Hook Elementary School had a very strict security system in place—at 9:30 a.m. daily the doors to the building are locked and visitor must ring a door bell and speak to an administrator before they are allowed to enter. Once in the building they are required to sign in. Vance said that it was determined that Lanza was not voluntarily allowed inside the school and instead forced himself in by shooting at a couple windows near the building's entrance. 
As investigations into this horrific event continue, Vance is hopeful that the thorough job being done by law enforcement officials will "paint a complete picture" as to why this tragic event rocked this small New England-town.
Our nation is mourning after a fatal shooting at Sandy Hook Elementary School in Newtown, Conn., which left 28 dead and 1 injured. The tragic event took place around 9:40 a.m. Friday just as day began at the kindergarten through fourth-grade school, according to Newtown police.
The gunman, identified by law enforcement officials as Adam Lanza, 20, entered the building decked out in black attire and a bullet-proof vest armed with a Glock and a Sig Sauer and opened fire killing 20 children and six adults.
"Everybody was crying," CNN reported a student at Sandy Hook Elementary School, Alexis Wasik, said. "And I just heard the police officers yelling."
Teachers locked classroom doors, huddled in corners, hid in bathrooms and took cover under desks as the rampage continued.  Responding police officers led students out of the building telling them to hold onto each other's shoulders and to close their eyes to the massacre that engulfed the hallways of the school.  
The Newtown shooting is now the "second-deadliest" school shooting, with the confirmed death toll at 28, since the 2007 Virginia Tech shooting, which left 32 people dead.
Lanza, who is said to have shot his mother, Nancy, in the face at their home in Newtown before he opened fire as he walked into the school, killed the school's principal, Dawn Lafferty Hochsprung, and other administrators then proceeded to unload rounds of bullets in two kindergarten classrooms where his mother was said to be a substitute teacher, according to a story in the Chicago Tribune. He then committed suicide, turning the gun on himself.
Police canvassed the building and the surrounding area after the shooting and found the vehicle Lanza used to get to the school, registered in his mother's name, in the parking lot along with a .223 Bushmaster (firearm) inside, also licensed to her.
Authorities went on to question Lanza's older bother, Ryan, 24, in Hoboken, New Jersey and his father, who resides in Stockton, Conn., but neither was considered a suspect in the school shooting, according to law enforcement officials.
While the tragedy left an overwhelming sentiment of sadness in the minds of many, President Obama also expressed grief while delivering a statement from the White House.
"The majority of those who died today were children," he said while wiping tears away from his eyes. "Beautiful little kids between the ages of 5 and 10 years old."
The President ordered flags fly at half-staff nationwide to commemorate the victims.
While an ongoing investigation continues, Americans come together to try and fathom the cataclysm.
"Evil visited this community today," Connecticut Gov. Dan Malloy said about the tragic event. "What happened, what transpired at that school building will leave a mark on this community and every family impacted."
Get Email Alerts from NationofChange