Published: Friday 25 October 2013
Republicans imagine—and make real—a system that takes money from most Americans to fund the hyper-luxurious lifestyles of the rich and companies.
Get Out of My Town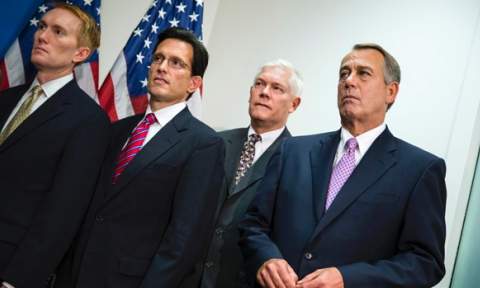 "Public service:" To serve the public. Republicans, you refuse to do that so you're DQed from Congress. Get out of DC; just go.
Yeah we heard you. DC is the most messed up bubble of people who don't know what's happening in "real America." Except that you want to pretend you don't know what's happening in those towns you represent. When was the last time we heard you say something intelligent about helping the poor, sick, or downwardly mobile people in your district? That's right, never. Click your heels, already, and harkens to the heartland.
Let's take, for example, the government that you budget. It does two things: tax and spend. Since almost all of you signed Grover Norquist's pledge to block any new taxes, you're unwillingly doing half of your job. Another F in your performance review.  And who's the "taxpayer protection pledge" really for:  your corporate friends paying taxes at a 40-year low, the top 1 percent who just sucked up 95 percent of the recovery's income gains, or those six heirs at Walmart who own as much as the bottom 42 percent in America? Or maybe, it's all of the above. This is happening while the average family earns less than they did back  in 1989. So stop telling your constituents there's no money for their healthcare, or retirement unless you're also telling them about that giant money machine you've set up to rob wealth from the 99 percent and give it to the rich and the corporations of America. Reverse Robin Hood and get a job you'll actually do. Juggle, paint, or pack meat—we'll pay for the job retraining (unlike you).
Then there's the climate that you pretend not to notice that it is changing. A/C addict, it's costing us tens of billions of dollars to pay for the recent 401 climate-related natural disasters. Forget the apocalyptic scenarios in the lifetime of those children you pretend to love; we already went through Sandy, Rita and Katrina (so unfair, they should actually be named after climate deniers). Your solution? Shut down cap and trade and refuse to pass a straightforward carbon tax, thanks to that evil tax pledge. Hot, dangerous and destabilized? Your plan for the Middle East; your promise to America.
And who the heck is against health care? Not you. We don't see you turning down cushy federal plans, or "opting out" of Medicare for your Mom or Grandma. But the people in your district, they get the "unrationalized best health care in the world." Here is a fact check, my friend, World Health Organizations ranks our health 38 in the world after countries like Oman, Iceland, Cyprus and Costa Rica, even though we pay the most.  Not so exceptional, huh? Yet, when Congress adopts YOUR (the Heritage Foundation/Gov. Mitt Romney's) plan, you shut down the federal government and almost crash the world economy. Your Confederate-flag-toting protestor and House Republican leader who said, "I can not even stand to look at [Barack Obama]," really just hates affordable health care, right? Heal your mind and get going.
Congratulations, dipsticks, for basically causing a major terrorist attack and freaking out the world. Imagine Al Qaeda doing $24 billion worth of damage to the U.S. to prevent a law being implemented to help Americans.  "Bomb those terrorists who hate democracy," you'd say and do it too.
And have you looked around and noticed the poor people in your towns? Probably not, they aren't schmoozing at those steak fundraising dinners (though they might be taping your next speech).  Almost half the country lives in poverty, or is a low-income household. More than half the kids in public school are poor, but he states above 50 percent are almost all Red States, Repubhead.
There are plenty of adults who are also struggling.  The majority of jobs that came back after the recession are minimum wage; about 1/3 of those who lost their jobs dropped from mid-wage jobs to low wages and the wealth gap almost doubled between white and blacks during the recession. Many poor workers just get by thanks to your hated government. In fact, 52 percent of fast food employees rely on federal assistance. So you must be behind a higher minimum wage to cut government spending? No? Or do you want to create a full employment program through green jobs or the something like the Works Progress Administration? Did you read Sasha Abramky's recently published book "The American Way of Poverty" and pull out some policy prescriptions? No, your plan is to cut Headstart and the food stamps that are skyrocketing in your districts.  Riiiiight.  
As for gun violence. We're worst in the developed world, with about 20 times more firearm related murders than on average. But we can learn, right? Countries like Scotland and Australia had tragic shootings too, but they took action. Instead you backflip and votes kill gun background checks after your colleague Gabby Giffords was a victim of gun violence and 20 little innocent children were killed from rounds of ammunition. Tell us again how you're pro-life.
What about regulations? We thought we'd never have to hear your "free market" and "capitalism" rants after the financial banks evaporated $25 trillion from asset prices worldwide; BP trashed the Gulf Coast and the Big Branch mine collapsed on 29 workers.  Your corporate contributors are looking more like our own worst enemies.
Too bad that "democracy" you love to export doesn't start at home; 13 percent of African American male (24 percent in swing-state Florida) are disenfranchised.  But few of you speak up for them or protest those voter ID laws that can disenfranchise millions in search of the voter fraud boogeyman.  
Your inspiration must come from a higher source. That God you're best bud so he must want kids to starve and people to become homeless, poor, jobless and sick. If that is so, then why does the Pope say, "it ain't about living well; it's about caring for the vulnerable, weak and the environment?"
The shutdown may be over, but you still have my country's neck under your jackboot, jerk. Now let go.
From a kid's book: "Imagination isn't perfect … But imagining being someone else, or the world being something else is the only way in. It is the machine that kills fascists." (John Green's "Paper Town"). You want to make my city a paper town with no value on the humans you represent. You imagine—and make real—a system that takes money from most Americans to fund the hyper-luxurious lifestyles of the rich.  Why don't you fill the public in on your plan and then go home. 
Sayonara, cowboys.
Get Email Alerts from NationofChange