High School Students Take Keystone XL Opposition Directly to The State Department
Published: Tuesday 11 October 2011
An intrepid group of high school students took the "No KXL!" message directly to the State Department.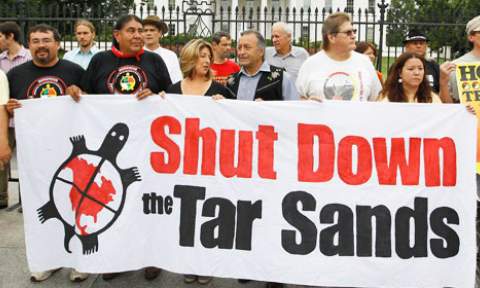 Tar Sands Students, a newly formed group of high school students who oppose construction of the Keystone XL pipeline, partook in its first action last Thursday: a meeting with Assistant Secretary of State Kerri-Ann Jones.
No environmental group has yet obtained a meeting with a State Department official who is higher than Jones, so it was notable that a high school group was given that level of access. Further indication that we were taken seriously is that Jones spent the full 50 minutes meeting with us, and also brought approximately eight other State Department employees to the meeting, among them her Principal Deputy, her Special Assistant, the Keystone XL Environmental Impact Statement Project Manager and National Environmental Protection Act Coordinator, and several policy analysts, assistants, and aides.
Going into the meeting, my hope was to completely convince Jones of the pipeline's true perniciousness. Although we many not have done that, we did successfully convey our concern to Jones; she seemed receptive, cordial and interested. Our group combined broad emotional appeals with specific analytical points. For example, at one part of the meeting, a participant told Jones that approving the pipeline would mean prioritizing short-term jobs and energy over long-term population and planetary stability, while later, I put Jones on the spot by asking her, "if your claim, that oil companies will be able to exploit the same amount of oil with or without Keystone XL were true, how would you explain the fact that environmental groups are spending so much money to stop the pipeline, while oil companies are working furiously to get it approved?"
The size and diversity of the group that attended the meeting was a testament to how concerned young people are about this issue. Even though the meeting was scheduled less than 72 hours in advance, 29 students from 14 different high schools attended. The students came a total of six counties in Maryland, Virginia, and Texas, as well as from Washington, DC, and represented a Jewish school, a Catholic school, a Quaker school, a secular private school, a home school, and several magnet schools and conventional public schools. There were so many of us that most of the participants couldn't fit at the conference table, and had to sit at the periphery of the room.
The Keystone XL would enable almost a million barrels of the continent's dirtiest form of oil to be extracted, processed, and exported every day. Exacerbating this concern is the fact that production of tar sands oil is three times more energy intensive than production of conventional oil, the fact that an area of Canada's boreal forest the size Florida will have to be clear cut for the tar sands to be fully exploited, and the fact that First Nations groups would face increased rates of cancer and other diseases as a result of the pollution that would be caused.
Approving the Keystone XL pipeline would be nothing less than a crime against the planet and its people. That is why Tar Sands Students took action once, and will soon be taking action again.