India Bans Commercial Dolphin Entertainment
Published: Monday 29 July 2013
While activism and conservation for cetaceans has been an ongoing fight in India, one things that's come from it is the banning of commercial dolphin entertainment.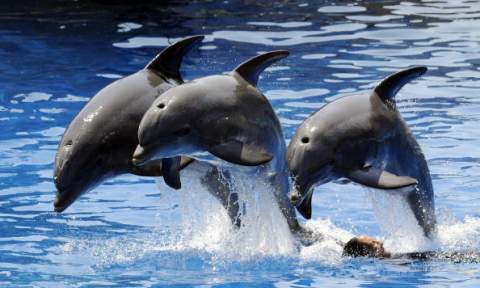 Training dolphins for people's entertainment is no longer a tourist attraction in India. The country will instead close the many dolphin parks built across the country and ban any other commercial entertainment, which captures and confines orcas and bottlenose dolphins.
India's Ministry of Environment and Forests' push to ban dolphinariums came after many protests took place last week outside a dolphin park in Kerala and activists made their voices heard infront of various other entertainment facilities of its kind.
After much research, India's government believes that "cetaceans are highly intelligent and sensitive" and therefore "should be seen as 'non-human persons' and, as such, should have their own specific rights," according to Deutsche Welle—an international media landscape representing Germany. India now joins Costa Rica, Hungary and Chile as the fourth country to ban cetacean entertainment.
According to the research conducted in Helsinki, Finland three years ago to draft the Declaration of Rights for Cetaceans, scientists proved that cetaceans have "large, complex brains especially in areas involved in communication and cognition." They resemble humans with having "self-awareness" and can "understand abstract concepts," according to Deutsche Welle.
Therefore, training dolphins and watching them perform tricks has become a popular pastime for Indians and tourists alike. But many people are unaware of the torture these cetaceans endure as they are violently captured from their wild habitat—in countries such as Japan, Taijii, parts of Russia, the Caribbean and the Solomon Islands, according to Deutsche Welle—and housed in tanks. In an interview with Deutsche Welle, Puja Mitra, a member of the Federation of Indian Animal Protection Organization (FIAPO), said that "ocras and other dolphins navigate by using sonar signals, but in tanks, the reverberations bounce off the wall, causing them 'immense distress.'" 
Many activists hope that the ban on cetacean entertainment will help boost India's fight to protect the Gangetic Dolphin living in the Ganges River. The river, which is a densely populated area, is being threatened by pollution and transformed from dams causing a loss of habitat. Many cetaceans are also getting stuck in fishing nets.
While activism and conservation for cetaceans has been an ongoing fight in India, one thing is for sure—a ban on commercial dolphin entertainment.