Published: Tuesday 16 August 2011
"Since 2001, the U.S. has lost 5.3 million jobs in the manufacturing sector as a result of trade policies which are adverse to the economic interests of the American people. "
Kucinich to Obama: Free Trade = Fewer U.S. Jobs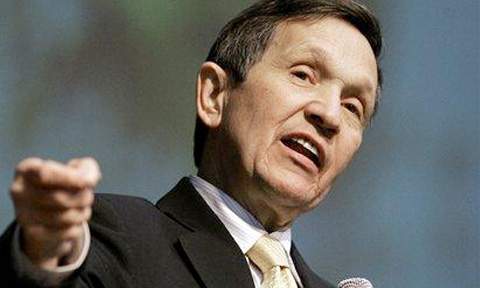 Congressman Dennis Kucinich (D-OH) today wrote to President Obama in response to claims that free trade agreements with Korea, Panama and Colombia will spur job growth.  President Obama is scheduled to speak in Iowa today, a state that has lost 21,500 jobs from free trade policies according to Bureau of Labor Statistics.
The full text of the letter follows:
August 15, 2011
The Honorable Barack ObamaPresident of the United StatesThe White HouseWashington, D.C. 20500Dear President Obama:
As you continue a tour around the United States focused on the American economy and jobs, I write to express my deep concern over your characterization of free trade agreements as vehicles that will increase U.S. exports and boost our economy.  In June, the U.S. trade deficit rose to its highest in three years to $53.1 billion.  At this rate, the annualized 2011 trade deficit could exceed $600 billion.  Historically, free trade agreements have proven very damaging to American workers and the American economy, often resulting in significant job loss and increases in the U.S. trade deficit.   The three impending trade deals Congress is expected to consider this fall - Korea-U.S., U.S.-Colombia and U.S.-Panama – are likely to exacerbate our economic woes rather than resolve them. 
A recent article in the Los Angeles Times portrays your jobs agenda as a plan that "calls for $30 billion to rebuild roads, bridges and ports; improvements to the patent system to spur innovation; trade deals with a trio of countries to boost exports; a $40-billion extension of unemployment insurance benefits; and renewal of the current one-year reduction of the payroll tax at a cost of up to $120 billion."  With the highest jump in our trade deficit in years, the facts regarding the potential job losses from increases in foreign imports and increases in the U.S. trade deficit as a result of these free trade agreements far outweigh any positive impacts that U.S. exports may have on our economy. The numbers speak for themselves.  
Since 2001, the U.S. has lost 5.3 million jobs in the manufacturing sector as a result of trade policies which are adverse to the economic interests of the American people. According to the Economic Policy Institute (EPI), passage of the Korea-U.S. Free Trade Agreement could result in the loss of 159,000 American jobs within the first seven years of its implementation.  EPI further estimates that the U.S.-Colombia Free Trade Agreement will result in the loss or displacement of an additional 55,000 American jobs.   Between 1994 and 2010, states previously known for their manufacturing industries like Ohio, Minnesota, Michigan and Iowa have collectively lost over 772, 000 manufacturing jobs.
We cannot have a strong economy without a strong manufacturing base.  Investments to put Americans back to work by rebuilding our infrastructure would be beneficial for manufacturing.  However, these investments will be significantly undermined by the passage of free agreements which will further damage our manufacturing sector.  Two-thirds of the more than 2.3 million American jobs displaced between 2001-2007 as a result of the U.S.-China Free Trade Agreement were in the manufacturing sector.  This has resulted in the outsourcing of hundreds of thousands of American jobs in the computer and electronic parts, apparel and accessories and fabricated metal production sectors, industries that will be further undermined by the trade agreements for which you are advocating. The Economic Policy Institute estimates that our trade deficit with Korea will grow to $16.7 billion in the first seven years of its implementation. 
We will need American workers and American companies to meet the demand of manufacturing solar panels, wind turbines, efficient cars, new construction materials and many other products needed for the transition to a sustainable economy.  With the unemployment rate continuing to hover above 9%, we cannot afford to squander any investments in the American economy by advocating for more free trade agreements, and I would ask, respectfully, that you refrain from describing these trade agreements as jobs programs when the evidence indicates that they are the opposite.
Sincerely,
Dennis J. Kucinich
Member of Congress