Obamacare Is on the Horizon, but Will Enough People Sign Up?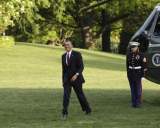 With "Obamacare" five months from show time, Democrats are worried about whether enough Americans will sign up to make the sweeping healthcare overhaul a success - and what failure might mean for Congress heading into the 2016 presidential race.
Some of the law's main advocates fear that not enough of America's 49 million uninsured will know about health coverage offered in their own states. Even if they do, new insurance plans may not be attractive to young, healthy consumers needed to offset an expected influx of older and sicker patients.
Get Email Alerts from NationofChange