Protesters Call For Sheriff Joe Arpaio's Conviction
Published: Saturday 14 January 2012
The DOJ still has an ongoing investigation on Arpaio for excessive use of force within his jail.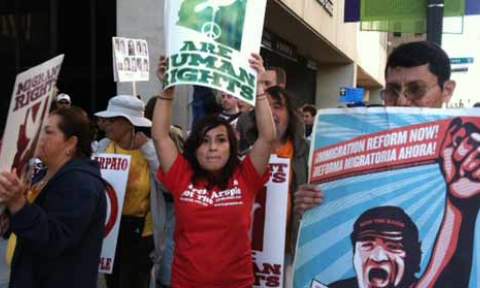 Mike Atencio watched the crowd of protesters outside the offices of Maricopa County Sheriff Joe Arpaio (MCSO) at the Wells Fargo building in downtown Phoenix listening to the chants of "Arrest Arpaio, not the people."
The latest protest convened by the PUENTE Movement, an Arizona-based immigrant rights group, comes on the heels of public outrage over surveillance videos that show deputies beating and using a Taser gun on Atencio's brother on Arpaio's Fourth Avenue jail on Dec. 16.
Groups like PUENTE are holding Arpaio accountable for the death of Ernest "Marty" Atencio. The war veteran was pronounced brain dead after the beating, and five days later, his family decided to remove him from life support.
"We want him arrested," said Carlos García, the director of the PUENTE Movement. "I don't think I ever heard of anyone to retire [sic] after murder."
The Maricopa County Sheriff's office is investigating Atencio's beating, and Arpaio has made no comments about it.
Addressing the crowd, García called for Arpaio's outdoor jails, infamously known as "Tent City," to be shut down, for the sheriff to face criminal charges for the murder of Atencio, and for law-enforcement agencies to stop working with Arpaio's office.
"We're here to ask the Feds to arrest Arpaio, not the people," he chanted, during Friday's protest.Mike Atencio didn't want to make any statement to the media, but said he was there to support protesters. And many of the demonstrators were there to support him, even though they didn't recognize him in the crowd.
Edward Campos, 53, held a sign that read: "Arrest Arpaio. Prosecute organized crime. Arrest Sheriff Joe." On the other side, the sign had a mug shot of Arpaio with an inmate serial number over it."He's costing too much money to the taxpayers with all the lawsuits," said Campos.
Arpaio has enjoyed popular support in Maricopa for close to 20 years and now he's seeking a re-election for the sixth time.
But Campos believes the support for "America's toughest sheriff" is fading, in light of the recent Department of Justice (DOJ) findings of racial profiling and other civil rights violations against the Latino community.
The DOJ still has an ongoing investigation on Arpaio for excessive use of force within his jail. The 79-year-old sheriff is also being scrutinized by a criminal grand jury for abuse of power and retaliation against political enemies.
"Having him resign won't bring justice," said Sandra Castro, an organizer with the PUENTE Movement. "If this was any other case he would be facing criminal justice. We have evidence that he abuses human rights. He's committed all sorts of crimes. He needs to be put in jail," said Castro, adding that protests outside Arpaio's building will continue during the coming months.
Recently, Arpaio's agency has come under fire for hundreds of sex crimes that weren't investigated by his agency.
Groups like Citizens for a Better Arizona –the force behind the recall of SB 1070's architect, Senator Russell Pearce- have been applying pressure on the Maricopa County Board of Supervisors to hold Arpaio accountable.
But Castro said PUENTE wants to take it up a notch through sustained protests and a loud call for Arpaio's arrest.
Their first protest this year attracted a diverse crowd.
Among them was Goeffrey Kachiolwa, an African refugee from the region of Caprivi in the Republic of Namibia.
"I left my country because of… abuses to human rights," he said. "And I'm finding these abuses here."
Joe Keesecker and his wife Selena joined the protest, saying they were outraged by reports that Arpaio's agency failed to investigate a number of sex crimes in different communities.
"We are concerned that this domestic child abuse wasn't investigated and there were things that were overlooked," Keesecker said.