Published: Tuesday 22 November 2011
Since 1984 the number of private corrections facilities has burgeoned by 4000%.
The Public in Republican: The Privatization of Prisons and Universities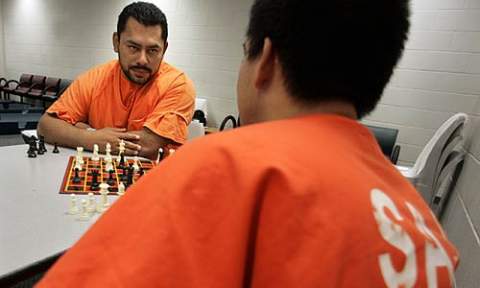 In 1944 the great Hun­gar­ian po­lit­i­cal econ­o­mist Karl Polanyi penned The Great Trans­for­ma­tion in which he vi­tu­per­ated con­ser­v­a­tives for pri­va­tiz­ing com­mon prop­erty re­sources. He writes, for ex­am­ple, that "allow[ing] the mar­ket mech­a­nism to be the sole di­rec­tor of the fate of human be­ings" will "re­sult in the de­mo­li­tion of so­ci­ety."
Forty years later, in 1984, I was born.
I was born in 1984 and since the year of my birth the num­ber of human bod­ies in the United States lan­guish­ing under some form of state sur­veil­lance has bal­looned by nearly 400% de­spite a U.S. pop­u­la­tion ris­ing ten times as slowly.
I was born in 1984 and since the year of my birth the num­ber of pri­vate cor­rec­tions fa­cil­i­ties has bur­geoned by 4000%. I was born in 1984 and since the year of my birth the num­ber of black men in prison has grown by 800%; 73% of peo­ple of color in­car­cer­ated since 1984 are non-vi­o­lent, drug-re­lated of­fend­ers.
I was born in 1984 and since the year of my birth the num­ber of black men in col­lege has with­ered by al­most 50%. Today, there are some 820,000 black men in cells, but only 270,000 in dorms.
I was born in 1984, the year that in­cum­bent Pres­i­dent Ronald Rea­gan de­feated Wal­ter Mon­dale by nearly 18% in the na­tional pop­u­lar vote. No can­di­date since 1984 has man­aged to equal or sur­pass Rea­gan's elec­toral gulf. Per­haps we should re­peal "right on red" laws?
I was born in Oc­to­ber of 1984 and dur­ing that month a Re­pub­li­can con­trolled Sen­ate under the lead­er­ship of George H.W. Bush, Howard Baker, and Strom Thur­mond passed leg­is­la­tion al­low­ing fed­eral agen­cies to ex­per­i­ment with pri­va­tized cor­rec­tions. Later that year the INS struck a deal with CCA, the Cor­rec­tions Cor­po­ra­tion of Amer­ica, on whose Board of Di­rec­tors Thur­good Mar­shall Jr. cur­rently sits.
The re­la­tion­ship be­tween the INS—now Cit­i­zen­ship and Im­mi­gra­tion Ser­vices—and the CCA is crit­i­cal to con­sider be­cause it demon­strates the cir­cuitous path­ways be­tween race, cit­i­zen­ship, con­tain­ment, and prof­itabil­ity. I don't think it's par­tic­u­larly co­in­ci­den­tal that the INS –a state agency that pri­mar­ily deals with bod­ies of color—was the first gov­ern­men­tal or­ga­ni­za­tion to con­tract with pri­vate prison com­pa­nies. Test­ing pri­va­ti­za­tion on the most vul­ner­a­ble and po­lit­i­cally dis­en­fran­chised groups al­lowed the pri­vate prison in­dus­try to ex­ter­nal­ize costs with­out fac­ing "le­git­i­mate" pub­lic back­lash. The mes­sage from the U.S. cor­po­rate state is crys­talline: bod­ies of color are not, nor have ever been, wor­thy of tax­payer sup­ported pub­lic in­vest­ment. In the eyes of the U.S. cor­po­rate state peo­ple are color aren't part of the "com­mons," an omis­sion that ren­ders peo­ple of color ex­clud­able from pub­lic ap­pro­pri­a­tions. In­stead, bod­ies of color con­tinue to be seen al­most ex­clu­sively as a source of profit ex­trac­tion. Bod­ies of color are in­car­cer­ated at sig­nif­i­cantly higher rates in pri­vate fa­cil­i­ties than in pub­licly op­er­ated in­sti­tu­tions.
And the jus­ti­fi­ca­tion for pri­va­tiz­ing pun­ish­ment? Con­ser­v­a­tives say that pri­va­ti­za­tion is ef­fi­cient. This claim is unas­sail­ably false. The Ari­zona De­part­ment of Cor­rec­tions re­ported in its 2010 "Op­er­at­ing Per Capita Cost Re­port" that in­mates in pri­vate pris­ons can cost as much as $1,600 more per year. And more gen­er­ally, the pri­va­ti­za­tion of pub­lic in­sti­tu­tions and pro­grams, a pol­icy that has been pur­sued ag­gres­sively since the early 1980s, is pred­i­cated on the as­sump­tion that ex­tend­ing the reach of mar­kets will pro­mote eco­nomic growth and will cut costs. Again, this claim is unim­peach­ably false. In 2003 the World Com­mis­sion on the So­cial Di­men­sion of Glob­al­iza­tion's is­sued a re­port en­ti­tled "A Fair Glob­al­iza­tion" whose au­thors found that the pri­mary achieve­ment of the pri­va­ti­za­tion of pub­lic as­sets, in­sti­tu­tions, and pro­grams since the early 1980s has been re­dis­trib­u­tive, not gen­er­a­tive. Rea­gan's chief jus­ti­fi­ca­tion for the pri­va­ti­za­tion of myr­iad pub­lic sec­tor jobs was, in his words, "to stim­u­late cap­i­tal ac­cu­mu­la­tion." But such rhetoric strays far afield from re­al­ity. Through­out the 1960s ag­gre­gate global growth rates stood at 3.5% and dur­ing the 1970's they dipped to 2.4%. But from 1980-2003 the world econ­omy has only grown by a rate of 1.25% an­nu­ally. So pri­va­ti­za­tion didn't ap­pear very gen­er­a­tive, but it did re­dis­trib­ute wealth up­ward. In late Oc­to­ber the Con­gres­sional Bud­get Of­fice (CBO) re­ported, for in­stance, that the real after tax house­hold in­come of the 1% grew by 265% since 1979, whereas the poor­est 20% of house­holds saw their in­comes in­crease by a pal­try 18%.
And as the bat­tle over pri­va­ti­za­tion con­tin­ues, the stakes grow ever higher. Just last month the River­side, Cal­i­for­nia County Board of Su­per­vi­sors ap­proved a mea­sure that au­tho­rizes charg­ing pris­on­ers $142.42 per day of their prison stay in an ef­fort to save the county up to $5 mil­lion dol­lars per year. The Board's de­ci­sion ob­vi­ously comes amidst a bud­getary cri­sis of un­prece­dented pro­por­tions as the state of Cal­i­for­nia at­tempts to "pri­va­tize" its way out of last year's $9.6 bil­lion deficit. Ge­o­g­ra­pher David Har­vey sug­gests that dur­ing mo­ments of cri­sis "ac­cu­mu­la­tion by dis­pos­ses­sion" is one strat­egy the state im­ple­ments to sta­bi­lize the econ­omy. Today, "ac­cu­mu­la­tion by dis­pos­ses­sion" works by dis­pos­sess­ing cit­i­zens of their as­sets (and rights) through two pri­mary strate­gies: 1) per­sonal in­debt­ed­ness (think av­er­age stu­dent debt loads of $24k / struc­tural read­just­ment poli­cies on the per­sonal level) and 2) ex­ter­nal­iz­ing risk and cost from the cor­po­rate state to the cit­i­zenry.
The lat­est ex­am­ple of "ex­ter­nal­iz­ing risk" can be seen in River­side County, Cal­i­for­nia where the Board of Ad­min­is­tra­tors plans to enact a fee-for-ser­vice plan for "crim­i­nals," or as the state now con­ceives of them, "con­sumers." Gov­er­nor Brown claims that pay-to-stay pro­grams will re­duce the state's cor­rec­tions ex­pen­di­tures and there­fore free up ad­di­tional out­lays for pub­lic ed­u­ca­tion. But Brown's com­ments come at a time when the Re­gents at the Uni­ver­sity of Cal­i­for­nia have pro­posed an 81% tu­ition hike over the next four years. Mean­while, Cal­i­for­nia's adult prison pop­u­la­tion has grown from about 97,000 in 1990 to nearly 161,000 today, while the cost of in­car­cer­a­tion dur­ing has risen from $20,562 per in­mate to $47,101. The cor­rec­tions de­part­ment now draws $9.8 bil­lion from the state's gen­eral fund, or 11.4% of this year's spend­ing plan. This is more than the state spends on the Uni­ver­sity of Cal­i­for­nia and Cal­i­for­nia State Uni­ver­sity sys­tems com­bined. Over eigh­teen states, in fact, spend more on cor­rec­tions than pub­lic ed­u­ca­tion.
And River­side County of­fi­cials jus­tify their nascent pay-to-stay pro­gram by con­tend­ing that new rev­enue from in­mates could save low to mid-wage county jobs that would oth­er­wise be on the chop­ping block. But by now we know that this rhetor­i­cal strat­egy is an­cient: pit pris­on­ers against the class from which they come. In Pun­ish­ing the Poor (2009) U.C. Berke­ley so­ci­ol­o­gist Loic Wac­quant re­ports that 60% of those cur­rently in­car­cer­ated were at the time of ar­rest liv­ing at or below 50% of the poverty line. And ac­cord­ing a re­cent re­port is­sued by the U.S. Cen­sus Bu­reau just two weeks ago nearly 20.5 mil­lion Amer­i­cans, or 7% of the U.S. pop­u­la­tion, live at or below 50% of the poverty line.
But forc­ing pris­on­ers to pay for their con­tain­ment through mea­sures of pri­va­ti­za­tion has never re­ally been about stim­u­lat­ing the econ­omy, has it? At the same time the Obama ad­min­is­tra­tion has rec­om­mended a dra­matic "spend­ing freeze" on any and all pro­jects un­re­lated to em­pire build­ing, it has sur­rep­ti­tious in­creased the fed­eral bud­get for prison ex­pen­di­tures. Pres­i­dent Obama's com­bined bud­get re­quests for fis­cal years 2011 and 2012 in­clude a 10% in­crease in fund­ing for the Fed­eral Bu­reau of Pris­ons, bring­ing the total to more than $6.8 bil­lion. The Left has been pusil­lan­i­mously silent.
The strat­egy from the top has been con­sis­tent: Di­vide, con­quer, shift costs, and re­peat.
And so both prison abo­li­tion­ists and "Oc­cupy" Wall Street ac­tivists must decry the cor­po­rate cap­i­tal­ist carceral class that preaches mar­ket but prac­tices mo­nop­oly (CCA over­sees 62% of total num­ber of in­mates in pri­vate pris­ons), that pri­va­tizes profit while so­cial­iz­ing debt. To­gether, both ac­tivist com­mu­ni­ties must strive to build, in the words of Dr. King, "a per­son ori­ented so­ci­ety over a thing ori­ented so­ci­ety." We de­mand a world where pris­on­ers aren't as­sumed to be chat­tel and work­ers aren't as­sumed to be com­modi­ties; we de­mand a world where pris­on­ers aren't degrad­able and work­ers aren't dis­pens­able.