Thousands Rally Against Stricter Gun Control in US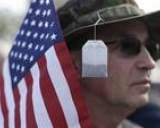 Summoned via social media for the "Guns Across America" event, participants gathered Saturday for protests large and small against stricter limits sought on firearms. Only a few dozen turned out in South Dakota and a few hundred in Boise, Idaho. Some 2,000 turned out in New York and large crowds also rallied in Connecticut, Tennessee, Texas, Utah and Washington state.
The rallies came on a day in which accidental shootings at gun shows in North Carolina, Indiana and Ohio left five people hurt. The wounded included two bystanders hit by shotgun pellets after a 12-gauge shotgun discharged at a show in Raleigh, N.C., as the owner unzipped its case for a law officer to check at a security entrance, authorities said. A retired deputy there also suffered a slight hand injury.