Published: Thursday 27 October 2011
"We've had rallies and protests, closed down banks and the Chamber of Commerce, protested in the House, Senate and at the White House."
Three Weeks Occupying Freedom Plaza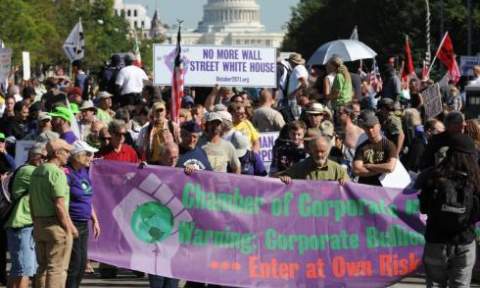 It has been a whirlwind of activity since October 6 when the occupation of Freedom Plaza began.  We've had rallies and protests, closed down banks and the Chamber of Commerce, protested in the House, Senate and at the White House.  We've had a series of fantastic speakers from around the United States and the world, including the Egyptian Revolutionaries. The support from the DC community has been incredible – restaurants, churches, unions and individuals have brought us food and warm clothing.  The Occupy Movement has struck a chord with Americans fed up with the unfairness of the economy and endless wars. 
Occupying Washington, DC
People came to Washington, DC to occupy Freedom Plaza for many reasons, as seen in this video Why Are People Occupying Freedom Plaza?  And, lots of people have different reactions here's What some bystanders think of the occupation of Washington, DC? When I got a chance to speak on the first day I stated our one demand as END CORPORATE RULE.  As the occupation has progressed and we've held General Assemblies and committee meetings, I still see that as a goal that encompasses the long list of transformational changes that are needed. Corporate power has entangled itself in all aspects of American life, so ending corporate rule requires confronting a lot of issues. 
We let the capital know that the occupation of Washington, DC had begun by having a march from Freedom Plaza to the White House and Chamber of Commerce.  We shut the Chamber of Commerce with a jobs protest and then went on to K Street, the center of special interest lobbyists and held a rush hour march.
We began our first day with a rally that featured Cheri Honkala, the founder of the Kensington Welfare Rights League, Glen Ford of the Black Agenda Report and Ashley Sanders of the climate change group Peaceful Uprising. Our first evening event featured Chris Hedges, the award winning war correspondent and author as well as political commentator and cartoonist, Ted Rall and Afghan youth.  It was a powerful first day.
Protesting Drones and War
On the first day of the 11th year of the Afghanistan War, we began the day with a rally and protest at General Atomics, the maker of drones.  That was followed by an anti-war march and rally to the new memorial to Martin Luther King, Jr.  The march was filled with big displays of anti-war, economic justice and environmental protection messages.
A second protest against drones was held at the Smithsonian's Air and Space Museum's drone exhibit. The museum's private security pepper sprayed peaceful protesters. We later discovered that there was an agent provocateur who confessed that he Infiltrated October2011 with intention of disrupting our protests.  In fact, two provocateur's escalated the violence of our peaceful protest. We discovered and evicted the second provocateur a few days later.
The Freedom Plaza occupation continued to protest the wars when the Secretary of Defense and Chairman of the Joint Chiefs of Staff testified before the House Armed Services Committee. This protested resulted in seven people being arrested protesting the wars at House Armed Services Committee. One occupier, Ali McCraken, was cited for an assault on Secretary Panetta even though she never got anywhere near him.  She wrote about it in: Dispatch From Activist Arrested for "Assaulting" Leon Panetta During Supposedly Public Hearing.
While the Freedom Plaza occupation has protested war, it was organized to not only end militarism, but to end corporatism – the source of war.  A protest in the Hart Senate Office Building on October 11, focused on both of these issues.  In that protest we shut down all the Senate offices in the Hart building.  Here's the Real News about our Senate action.
Economic Protests
Most of the focus of Freedom Plaza has been on the unfairness and corruption in the economic system.
Wall Street gave the Freedom Plaza occupation a gift when it held a "Wall Street Comes to Washington Healthcare" conference.  The focus of the conference was how big business interests and investors could profit even more from healthcare.  Dr. Margaret Flowers, a leading single payer advocate, confronted the Wall Street investors trying to profit from health care in their own conference. While Dr. Flowers was inside 50 Freedom Plaza occupiers were in a picket line outside that focused on how Wall Street greed kills those in need. One of the powerful stories came from Adara Scarlett who described how her father killed himself at 54 years old in order to prevent his family from having massive health care bills.  Here is the letter from her father describing why he killed himself.  There are many examples but Adara Scarlet shows why Wall Street and insurance should get out of health care.
Occupy Washington, DC has focused a lot of our attention on the U.S. Chamber of Commerce.  The Chamber is the corporate bully of Washington, DC and since our long-term goal is to end corporate rule, we need to take on the lead bully. From our first day we took on the Chamber of Commerce and shut them down. Occupy Freedom Plaza brought our Message to the Chamber of Commerce again 18 days later when we shut them down over the issue of foreclosures.  Unbelievably, the Chamber of Commerce urges more foreclosures and does not want the government to do anything to prevent foreclosures. We plan to consistently focus on the Chamber and each time we will focus on one of our 15 core issues, on each the Chamber is on the wrong side protecting the 1%.   
Another major focus is the banking system, especially the too big to fail banks that U.S. taxpayers saved from bankruptcy.  On October 15th the International Day of Action in Washington, DC we successfully shut down a Bank of America. This protest, done in conjunction with the other DC occupation on K Street, was part of an international day of protest from Tahrir Square to Times Square in over 1,500 cities worldwide
At a protest against foreclosures we shut down a Wells Fargo Bank.  And, at two protests Citibank was shut down. Citibank was focused on because it has not paid taxes in four years hiding money off-shore while at the same time being the largest recipient of TARP funding.  They pay excessive executive salaries while paying their tellers only $12.65 an hour.  They just announced another quarter of high profits, while continuing to foreclose on homes and hold back loans to small businesses.  For all these reasons Freedom Plaza Occupiers protested Citibank twice, so far.
Visitors to Freedom Plaza
In our first 20 days we've had a wide range of visitors to Freedom Plaza.  We were visited by a group of elementary to high school students who were studying social justice.   Ralph Nader toured Freedom Plaza and spoke to the Occupation Movement.
Patch Adams conducted a teach-in where he called for a Revolution of Love. Jim Hightower spoke to the Freedom Plaza occupiers about the people vs. the elites and how corporate greed is a root cause of the problems we face.  Dick Gregory spoke at a rally on Freedom Plaza bringing years of civil rights activism to the occupiers.
Cornel West came to Freedom Plaza; where he spoke and participated in a march to U.S. Supreme Court.  The protest led to Dr. West and 18 others being arrested on the steps of Supreme Court. Here's a video of Cornel West at the march and his arrest at the U.S. Supreme Court.
Perhaps one of the most interesting groups of visitors who came was the Egyptian Revolutionaries who conducted teach-in at Freedom Plaza. Their message was one of persistence and confidence that we can change the future.  They told us that nothing is impossible and that the future we envision for the United States can become a reality.
How Long Will Freedom Plaza Be Occupied?
While the National Park Service has given us a four month permit, this permit does not allow us to "occupy" Freedom Plaza.  We are not allowed to camp or sleep on Freedom Plaza nor are we allowed to cook or received food prepared off the Plaza.  The Park Police have warned us that we could be removed for occupying Freedom Plaza.  They warn us they are getting pressure from "the administration" to enforce the rules against camping. We are preparing for them to remove us in the next week or two.
The last time our permit ran out the General Assembly voted in solidarity to stay on Freedom Plaza.  Indeed, we had a dance party  when the permit ran out. We do not fear the police coming in fact we danced waiting for the police who never came.  When Occupy Wall Street was under threat we put out an urgent action alert calling for solidarity with occupy Wall Street as did many others. Some of our participants went to Wall Street to stand with them. The occupation of Freedom Plaza is receiving great community support and we hope the community will come to the Plaza if we are threatened.  But, we will not leave, the work we are doing is too vital to the direction of the nation.
The Occupy Movement is having an impact.  Some are already asking whether the occupations are shifting the center of American politics?  And, corporate America is starting to take the movement seriously, see Leaked Memo: The Corporate Board Rooms Fear the Occupy Movement Occupying their Board Rooms Targeting Individual Executives. This movement is still in its infancy.  The economic insecurity and unfairness in the economy affects all of Americans and makes all of us "the 99%." The economic and political elites should take this movement seriously because we know the people can rule better than the elites.