A Year After Ramarley Graham's Murder, a Movement Against Police Brutality Grows
Published: Friday 8 February 2013
Harassment and violence from area police forces have been a reality for communities of color for decades.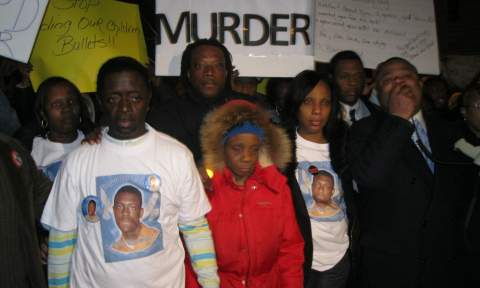 On Feb. 1, 2012, 18 year old Ramarley Graham was gunned down in his own home by New York City police in front of his grandmother and 6 year old brother. The unarmed black teenager was killed with a bullet to the chest by officer Richard Haste after police broke into his family's apartment claiming Graham had a gun.
On Friday, the one year anniversary of Graham's murder, his family filed a suit against Haste, Police Commissioner Ray Kelly and other officers for use of the discriminatory stop-and-frisk tactic and for allegedly covering up evidence from the day their son was murdered.
Unlike many other cases surrounding police violence, Haste faces a maximum sentence of 25 years in prison on first and second degree murder charges; he is the first NYPD officer to face criminal charges for a fatal shooting since 2007 when three officers were indicted for the murder of Sean Bell, another black victim who was shot 50 times.
Police violence hits communities of color
Graham's murder is a familiar nightmare to many communities across the United States terrorized by police violence. From Harlem to Oakland, youth are subjected to legalized racial profiling, known as stop-and-frisk, which disproportionately targets 87 percent black and Latino people. Harassment and violence from area police forces have been a reality for communities of color for decades.
But families rarely see justice for their slain loved ones; officers typically receive what amounts to a slap on the wrist with paid leave. One such instance was the murder of black Oakland teenager Alan Blueford, who was shot three times by Oakland police and left dead in the street for four hours in May 2012, weeks before Blueford was set to graduate from high school.
Another was the shooting of Anaheim resident Manuel Diaz in July 2012. During a chase, police shot Diaz once in the leg and another time in the back of his head. Two days later, Anaheim police shot and killed Joel Acevedo during a car chase. Community members were outraged at the killings and demanded justice. According to Orange County DA records, there were 40 shootings by Anaheim police from 2003 to February 2011. Not one officer has been charged.
In New York City, incidents like these without reprimand occur all too often. Last June, NYPD narcotics detective Phillip Atkins shot 23 year old Shantel Davis in the chest as the unarmed woman held her arms up crying out, "Don't shoot me." In September, NYPD officers opened fire and killed 20 year old Reynaldo Cuevas as his Bronx bodega was being robbed. A month later, Noel Polanco was shot point blank after he was pulled over in his neighborhood in Queens.
The NYPD has led the way in police violence, paying a staggering $550 million to settle 8,882 lawsuits in 2011 alone. At the beginning of this year, a Manhattan Federal Court judge ruled that the tactic of stop-and-frisk was unconstitutional outside private residential buildings. However, shortly after, another judge lifted the ban on stops and searches of "suspicious looking people," allowing stop-and-frisk to continue until the case goes to trial in March.
Families organize for justice
Families afflicted by police violence have responded by brewing up a social justice movement to put an end to unwarranted searches, frisks and shootings. Communities are organizing, storming courtrooms and police precincts to demand accountability and justice for the brutal acts. Organizations like All Things Harlem, Stop Police Brutality and NYC resistance are developing tactics to counter and prevent these attacks in their neighborhoods.
Activist Joseph "Jazz" Hayden of All Things Harlem has created a network of resistance by documenting police interactions and has been a strong voice against NYPD racial profiling and violence. Although he has directly been targeted by police for filming arrests and harassment in his neighborhood, Hayden continues to share incriminating videos of officers in an attempt to hold police responsible for civil liberties violations.
"Police violence in our black and brown communities isn't anything new. They have tried to incriminate our youth, but we aren't backing down," Hayden said. "We have to continue to fight for our futures."
Baltimore civil rights activist Reverend Annie Chambers has been a leading anti-police brutality advocate, organizing community members and families ever since her great grandson was murdered near her home in a case of mistaken identity.
"You look outside my window and see police cars at any time of the day," Chambers said. "I have seen them with their brutality over and over again. Young people are now at the part where they won't take it anymore."
And now, family members of the slain are increasingly taking the justice system into their own hands. Ramarley Graham's parents continue, one year on, to lead marches to police precincts reminiscent of the Civil Rights era, not only in remembrance of their son but for all those who have died at the hands of uniformed officers.
Alan Blueford's parents have created Justice 4 Alan Blueford and hold weekly meetings to end racial profiling and police violence in the Bay Area.
Their case, and similar ones, are now pushing law enforcement officers into the national discussion about gun control and violence, spurring a new form of resistance by communities and neighborhoods long terrorized by unaccountable police brutality.