News Report
Well over 1,000 people protested peacefully, marching through Ferguson, going to the police station and some going door-to-door in prosecutor McCulloch's neighborhood asking him to be removed or recuse himself. There are calls for shutting down highways on Labor Day and, if Officer Wilson is not fired and arrested, for shutting down highways for two days the week after.
Op-Ed
In her June 25 keynote address to the BIO International Convention in San Diego, Calif., Hillary Clinton voiced strong support for genetic engineering and genetically engineered crops. She earned a standing ovation that day by that the biotech industry suffers from a public perception problem and that it just needs "a better vocabulary" ...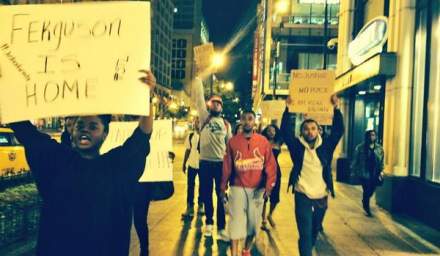 Op-Ed
Part Two of Three. If a separate country called Africa-America existed, it would be roughly the size of Spain in terms of total population, and larger than Argentina or Ukraine. According to the US Census Bureau, African-Americans constitute some 14% of the total US population. About 55% of the 44.5 million black citizens reside in the South. All the rest – some 20 million – now live in the cities of the North and West. If Africa-America were divided into two separate ...
Op-Ed
On a trip to Europe for a two-week stay in Finland, my wife and I at one point found ourselves seated next to a congenial 30-something guy, dressed casually in jeans and a T-shirt. He said he was US Army major.
Initially, our conversation revolved around his little kids, and his complaint about how often he was sent out on "short assignments" in Europe far away from home. He also mentioned being somewhat hard of hearing after having been sent out on ...