Op-Ed
Then came the attack of September 11th. Like the starting gun of a race that no one knew he was to run, this explosion set the pack of nations off in a single direction -- toward the trenches. Although the attack was unaccompanied by any claim of authorship or statement of political goals, the evidence almost immediately pointed to al-Qaeda, the radical Islamist, terrorist network, which, though stateless, was headquartered in Afghanistan and enjoyed the protection of its fundamentalist Islamic government. In a tape that was soon shown around the world, the group's leader, Osama bin Laden, was seen at dinner with his confederates in Afghanistan, rejoicing in the slaughter.
Historically, nations have responded to terrorist threats and attacks with a combination of police action and political negotiation, while military action has played only a minor role. Voices were raised in the United States calling for a global cooperative effort of this kind to combat al-Qaeda. President Bush opted instead for a policy that the United States alone among nations could have conceivably undertaken: global military action not only against al-Qaeda but against any regime in the world that supported international terrorism.
The president announced to Congress that he would "make no distinction between the terrorists who commit these acts and those who harbor them." By calling the campaign a "war," the administration summoned into action the immense, technically revolutionized, post-Cold War American military machine, which had lacked any clear enemy for over a decade. And by identifying the target as generic "terrorism," rather than as al-Qaeda or any other group or list of groups, the administration licensed military operations anywhere in the world.
In the ensuing months, the Bush administration continued to expand the aims and means of the war. The overthrow of governments -- "regime change" -- was established as a means for advancing the new policies. The president divided regimes into two categories -- those "with us" and those "against us." Vice President Cheney estimated that al-Qaeda was active in 60 countries. The first regime to be targeted was of course al-Qaeda's host, the government of Afghanistan, which was overthrown in a remarkably swift military operation conducted almost entirely from the air and without American casualties.
Next, the administration proclaimed an additional war goal -- preventing the proliferation of weapons of mass destruction. In his State of the Union speech in January 2002, ...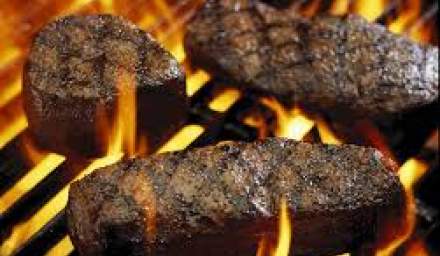 News Report
The best way to cut your food-related carbon footprint is probably not to eat any meat, but if you're not willing to go that far a new study breaks down the greenhouse gas emissions (GHGs) of different types of meat and beef is by far the worst. Research published in the journal Proceedings of the National Academy of Sciences has found that livestock emissions are on the rise and that beef cattle are responsible for far more GHGs than other animals, including chicken and pork. Meat production's heavy environmental toll is not new, but the scale is surprising: The study found that beef requires 28 times more land to produce than pork or chicken, 11 times more water, and results in five times more GHG emissions. A similar study published in the journal Climate Change this week found that from 1961 to 2010 global GHGs from livestock increased 51 percent. Much of this is due to increased demand for meat, especially in developing countries. So even as developed countries curtail demand and become more efficient producers, the scale of the problem is growing along with global GHG concentrations. "The developing world is getting better at reducing greenhouse emissions caused by each animal, but this improvement is not keeping up with the increasing demand for meat," said Dario Caro, a researcher on the study. "As a result, greenhouse gas emissions from livestock keep going up and up in much of the developing world." Researchers found that beef and dairy cattle account for just about three-fourths of livestock-related GHG emissions, with 54 percent coming from beef cattle and 17 percent from dairy cattle. This is partly due to the sheer abundance of the animal but also from the higher levels of methane and nitrous oxide that they emit. Sheep comprised nine percent, buffalo seven percent, pigs five percent, and goats four percent. On an energy-required-per-calorie assessment, pork, poultry, and eggs have roughly the same degree of environmental cost, and dairy is comparable as well. However demand for all these foods is predicted by some scientists to double by 2050, making GHG reductions a tall order. Agricultural emissions account for about 15 percent of all GHGs, half of which come from livestock. With some two billion more people to feed expected by 2050 some are calling for help in getting people to eat less meat, especially beef. "The big story is just how dramatically impactful beef is compared to all the others," Prof. Gidon Eshel, at Bard College in New York state, told the Guardian. "I would strongly hope that governments stay out of people's diet, but at the same time there are many government policies that favor of the current diet in which animals feature too prominently. Remove the artificial support given to the livestock industry and rising prices will do the rest. In that way you are having less government intervention in people's diet and not more." In the ...
News Report
In an extraordinary rebuke to a doctor at one of America's top hospitals, the U.S. Department of Labor has informed about 1,100 coal miners that their claims for black lung benefits may have been wrongly denied because of the actions of a powerful physician at the Johns Hopkins Medical Institutions, the department's deputy secretary told senators Tuesday. That doctor, Paul S. Wheeler, systematically found that miners did not have black lung when, in fact, many of them did. Medical opinions by the doctor should be assumed not to be credible, senators and affected miners were told. The government's outreach and the Senate hearing were both prompted by a series of stories released last year by The Center for Public Integrity in partnership with ABC News. Miners who get black lung, a debilitating and incurable disease caused by breathing in coal dust, are entitled by federal law to compensation, often from their former employer. But the series, which was the result of a yearlong investigation, revealed two ways that coal companies undermined miners' claims to benefits: Lawyers for coal companies withheld evidence that miners had the disease, and doctors consistently failed to diagnose black lung. One installment detailed how Wheeler had read X-rays in more than 1,500 cases decided since 2000 without finding a single case of severe black lung, even as other doctors saw the disease in hundreds of cases and other evidence repeatedly proved him wrong. The Senate subcommittee on Employment and Workplace Safety invited Wheeler or a representative from Johns Hopkins to testify at Tuesday's hearing but was told no one would be available, a staff member for subcommittee chairman Sen. Robert Casey said. A spokesperson for Johns Hopkins issued a statement to BuzzFeed: "Johns Hopkins commends the Subcommittee for its efforts to review the federal Black Lung Benefits Program to ensure the claims process is fair and just for all parties involved. At Johns Hopkins, we are taking this very seriously." Two days after the initial stories last fall, Johns Hopkins suspended the work of Wheeler's unit. Referencing an internal investigation, the spokesperson said, "While our review is ongoing, nobody at Hopkins — including Dr. Wheeler — is performing black lung [X-ray readings]." Casey announced that he would soon introduce legislation to strengthen the benefits program, developed with Sens. Jay Rockefeller and Joe Manchin, both of West Virginia, along with Sen. Tom Harkin of Iowa and U.S. Rep. George Miller of California. A bill might be ready before the August recess, a Casey staffer said. "We often talk about how coal produces the cheapest energy in this country," Harkin, whose father had black lung, said during the hearing. One reason, he said, is "because those who mine the coal have not been adequately compensated." The hearing featured testimony from top government labor officials, an insurance consultant, and miners from West Virginia battling the disease on a daily basis, including a retired miner on oxygen because of his severe disease. The only testimony in support of coal companies came from the insurance industry consultant, who contended that many claims were being incorrectly awarded to miners whose health problems were attributable primarily to smoking. Christopher Lu, the deputy secretary of the Labor Department, said that, in response to the CPI-ABC stories, "We conducted an extensive review of the program." This led to a series of new initiatives. Two major obstacles miners face: Coal companies have more resources to develop medical evidence, and miners often can't find a lawyer willing to take a black lung case. This February, the department began pilot programs intended to improve the quality of medical reports provided by government-paid doctors and to allow department lawyers to intervene in unrepresented miners' cases. In May, ...